BY THE HONORABLE MINISTER LOUIS FARRAKHAN | LAST UPDATED: DEC 20, 2016 – 10:16:20 AM
Be The 'Or Else' And The Change You Are Seeking

Thank you Brother Jesse Muhammad, Sister Tamika Mallory, Sister Carmen Perez, Brother Jay Morrison, Brother Salih Muhammad, Brother Faheem Muhammad, Brother Michael Amir, Brother Nuri Muhammad, and to all of those who were instrumental in making this conference call what it has become; and, to all of you who have taken time out of your schedule to be on the call.
I think, personally, everything that needed to be said was said by those who spoke. You are the leaders: You are the ones that are going to take responsibility to make The Movement successful. And you know, brothers and sisters, you must see the value of yourself, and your ability to do what you can do to make a Movement successful. There is work in a Movement for every one of us to do. What we are doing now in the boycotting of Christmas is creating the means of unity that we all can agree [on a common course of action]. … I heard what I needed to hear, and I am inspired by what I heard; because you have The Movement, now, in your hands. And the things that you are advocating to be done: If you do that, The Movement, begun, will be successful.
Be unified, willing to create pain by reducing enemy's ability to make money
This is only the beginning: brothers and sisters, once the enemy sees what the power of our unity can do to his economy, we don't stop there. Like the brothers of the University of Missouri said, the resignation of the president and the chancellor is "only the beginning"— they have a list of things that they wanted to have done. And their unity, and their willingness to create pain by reducing the ability of the institution to make millions of dollars from their playing a football game encouraged them to force the president and the chancellor to resign. That is a demonstration of the power that Dr. King and the Honorable Elijah Muhammad, and many of our great leaders of the past, were trying to tell us.
Dr. King said, "We don't have to go around talking bad, throwing Molotov cocktails." No. We don't have to do that. And the Honorable Elijah Muhammad said, "You don't even have to fire a shot." The "shot" that we are going to fire is the cannon of our unified action—not to bother anybody, just to keep our money in our pockets. And from that point, we will have enough money to invest in the idea that was mentioned ("buying up all of these old houses in the neighborhood"); but also, buying land, creating agribusiness . …
There is so much that we can do with $10 million, $50 million, $100 million, if just several hundred thousand of us back this Program, and keep the money for "Christmas" in our pockets.
Now we have some ideas, dear brothers and sisters, that once this boycott of Christmas is successful, we go to "the next level." I am not going to say (right now) what "the next level" is, but once you get the victory, and you see what your unity can produce, then that victory will cause you to want to stay in unity for the next level of this struggle. It's just begun.
'Forward ever, backward never': Be the 'Or Else'—the change you desire
The Honorable Elijah Muhammad said that when we go to Washington on this "march for justice"—and he used the term "march"—he said, "We will not return until we get what we demand." Well, we can't stay in Washington for the time that it would take for us to get justice; but what he was telling us is he wanted us to stay on the theme of "Justice."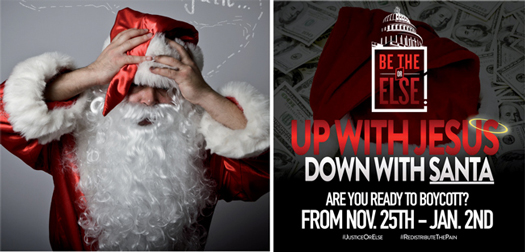 Brother Jay Morrison said, "Look, I'm not a Muslim, but I am with this struggle for justice." You don't have to be a Muslim, you don't have to be a Christian; you don't have to be a Nationalist—be who you are. But if we work together, and inflict this pain on those who every day inflict pain on us, then I can guarantee you what the Honorable Elijah Muhammad said. He said: "I cannot promise you that you won't get a hickey on your head. I cannot promise you that some of us won't go to jail. I cannot even promise you that some of us won't lose our lives in this quest for justice. But I can promise you this: Victory will be ours if we stay the course." And "victory" will mean justice will come; freedom will come. And The Movement will not end: It will morph into the beginning of a "national community" and "a nation within a nation."
I want all of those who are working to keep going; I thank you. … And brothers and sisters, all of the things that you will be getting in the teaching and training, you'll be able to get your script [spreading the word on the boycott] right from the information available on www.justiceorelse.com/betheorelse.
May Allah bless you all! I thank you for the honor for being on this call with you; thank you for allowing me this privilege. I am sorry for the faulting of the telephone, but I hope that these few things that I share with you are inspirational to you to "let's get moving," and not turnaround. "Forward ever! Backward, never." "Up with Jesus! Down with Santa!"
I pray that after this Christmas, Santa will be out of business with us, and Jesus will be totally in business, because we will be acting on the principles that he left us with in these words: "Love ye one another even as I have loved you." Don't think about some "gift" that you can give; the greatest gift that you can give is right within yourself: It's your ability to love yourself and love your family, and love your people. That's a gift, and that's the best of gifts. So open your heart to your family, open your heart to your neighbors—open your heart to your people—and show them the love that you want! And be the "Or Else," and be The Change that you've been looking for.
Thank you for reading these words, and may Allah bless you all as I greet you in peace: As-Salaam Alaikum.