BY MOTHER TYNETTA MUHAMMAD | LAST UPDATED: DEC 20, 2013 – 10:10:31 AM

"Seest thou not that Allah is He, Whom do glorify all those who are in the heavens and the earth, and the birds with wings outspread? Each one knows its prayer and its glorification. And Allah is Knower of what they do. And Allah's is the kingdom of the heavens and the earth, and to Allah is the eventual coming." –Holy Qur'an, Surah 24, verses 41-42
As I began writing this sequel to my previous article about my recent journey to Hawaii, I wondered how I have been able to travel to so many places in such a short span of my lifetime regardless to my personal circumstances.  In my travels, I have discovered many of the secrets of God's power unfolding around me.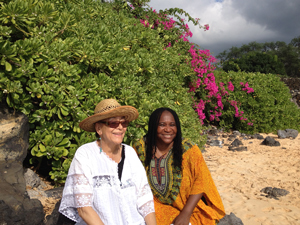 Photo taken of Dr. Ayin Adams with Mother Tynnetta Muhammad in a favorite section of the beach area on the island of Maui overlooking the bountiful waves of the sea.
I only recognize that there is a deep resonance and vibratory voice within that guides me in my sojourns.  In 1974, while seated at dinner with the Most Honorable Elijah Muhammad and a gathering of family members and Laborers in the palace, there was a moment in our discussion in which he turned his attention to me and spoke these words:  "My wife goes up into the mountains; my wife goes down into the jungles; my wife speaks several languages."
As I pondered over his words, I began to feel somewhat embarrassed because I thought he was going to admonish me because of my adventurous spirit which took me to many places on my own in search of knowledge.  However, he never reprimanded me or my endeavors, but rather he was addressing the spirit of my mind in searching for knowledge and truth wherever I was led to find it.  Beneath his words, I thought about our journey to meet with Allah, Himself, and how we must be prepared for this journey by facing many challenges in our lifetime.
Following his departure in 1975, I continued to investigate truth and to explore more of my environment on land and sea.   I traveled across the Atlantic Ocean for the first time, accompanied by my children and landed in Cairo, Egypt.  From there we traveled to Lebanon, Jordan, and Palestine to Jerusalem, Hebron, and Jericho.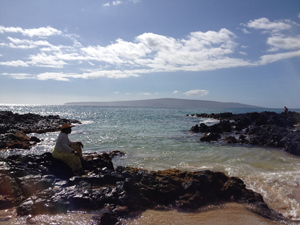 Sister Callie Muhammad seated on volcanic rock with her view to the billowing waves of this serene island of Maui.
We then traveled to Arabia, to the Port of Jeddah, and then to the Holy City of Mecca and Madina with a guide.  We also visited Istanbul, Turkey, Greece and to one of the islands of the Aegean Sea. 
From there we finally returned back to the United States, having been exposed to a deep culture of learning.  Since then, I have made many more world travels, alone, and in the company of the Honorable Minister Louis Farrakhan and his wife, Mother Khadijah. Beginning in the early 1980s, up to the year 2000, I have visited many more countries in Africa, the Middle East, including Israel, the Caribbean Islands and some of the islands of the Pacific, including Easter Island, Australia and New Zealand, as well as to the Emirates.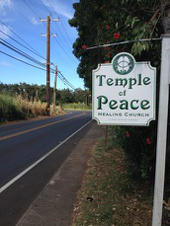 Outside sign of the location of the Temple of Peace, Resident pastors, Khadar from New Zealand and his wife, Shelley, from Baltimore, Maryland. They also oversee the operations of the state-of-the-art spa on the same location.
I have visited the Republic of Al-Tai in the Himalayas, then to Mongolia, entering Russia, and Siberia, and the Caucasus Mountains.
This final journey has brought me full circle back to the Pacific Islands of Hawaii for self-healing and renewal of mind, body and spirit.  I thank the many wonderful family members and friends from Maui and Oahu, the capital island of Honolulu, and the Big Island whose joyful spirit abounded with us every step of the way.
It was here on the island of Maui where I was invited in 1991 by Jose and Lloydine Arguelles to participate in the unveiling of Dreamspell based on the ancient Mayan system of mathematics and astronomy.  It was here in Maui where I became acquainted with the Aloha Spirit of Allah. We will note that in the word, "Aloha," we can rearrange the letters to read Allah.  The Arguelles' also invited me and my son, Ishmael, to visit the Big Island and the Kilauea active volcano.  The Arguelles' drove us around the entire island where we discussed Islam, the Holy Qur'an, and the life of Prophet Muhammad, (May the Peace and Blessings of Allah be Upon Him) on the basis of the Divine Teachings of the Most Honorable Elijah Muhammad.
I traveled to Oahu for the first time with my sister, Karlotta, to meet some of her dear friends which included the lovely Jewel McDonald, social activist for the Black and Indigenous people of the island, the lady, AO, leader of the Hawaiian Indigenous Nation of Ku and her children.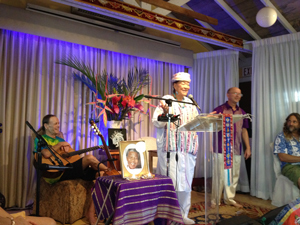 Mother Tynnetta Muhammad addressing the congregation on a Sunday morning service accompanied by her two traveling companions, Sister Callie Muhammad and Dr. Darnita Muhammad.
We were also introduced to Bumpy Kamehameha, who is a descendent of King Kamehameha.  Sister Jewel and AO, and her children, attended one of our Saviours' Day events held in Chicago and they presented beautiful garlands of fresh flowers from Hawaii and other gifts to the Minister and his family, the Nation of Islam. They performed sacred ceremonial dances and song to a large Saviours' Day audience.
It was in Oahu, capital Island of Hawaii, where my sister, Karlotta, introduced the Power products in 1988. It was on the island of Maui where I was introduced to a self-regeneration workshop on Makena Bay by Sister Callie Muhammad, from Columbus, Ohio and were introduced to the book publisher, lecturer, writer, and metaphysics teacher, Dr. Ayin M. Adams and her associates, George and Terry, organizers of the Nubian Pageants on the island.  Upon one occasion in the memory of Martin Luther King Jr., the Honorable Minister Louis Farrakhan was invited as the keynote speaker on Oahu.
I was later presented with an honorary award by Dr. Ayin for Outstanding Accomplishments during my lifetime.  This ceremony also contained the blessings and healing waters by the local Kahuna (spiritual leader or advisor) of the Indigenous Hawaiian people.  It was on Maui where some of the scattered remains of my sister, Karlotta, were dispersed in yet another solemn ceremony with prayers returning her elements back to the earth, air, fire and water.  She had chosen Hawaii as her second home.  Her two sons, Kelley and Khalil, were extremely grateful for my efforts.
As we departed for the airport, we stopped to bid farewell at the Temple of Peace and were received by the pastors of this serene spiritual place and state-of-the-art spa to share a few words of Allah's blessings to their congregation.  All these events took place during the passing of "Madiba" Nelson Mandela in South Africa.  It was in his home in Pretoria where he passed away in peace.  So it is in this spirit of peace and love and reconciliation and responsibility that is our message to the world under the Divine Guidance of the Honorable Minister Louis Farrakhan.
We are gradually uniting under One Banner of peace, forgiveness, love, and reconciliation of our differences, as one global humanity.  This is the time of our Renewal and Consecration of the Divine Life Force in the Presence of Almighty God, Allah, leading us to a life of abundance and happiness!
"Allah causes the night and the day to succeed one another. Surely there is a lesson in this for those who have sight. And Allah has created every animal of water. So of them is that which crawls upon its belly, and of them is that which walks upon two feet, and of them is that which walks upon four. Allah creates what He pleases. Surely Allah is Possessor of power over all things." —Holy Qur'an, Surah 24, verses 44-45
To be continued.