by Minister Louis Farrakhan
---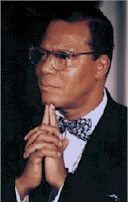 Thank you for allowing me to interrupt my articles on family.  I felt that my article last week and this week were very necessary to combat the evil and wicked aim and objective of the mischief of the media.  If it is the Will of Allah (God), I will resume my articles on family next week. Please look forward to, "Allah's (God's) choice of Jesus."
For the last twelve years, I have said that Malcolm (X) and I were involved in a heated controversy over the Honorable Elijah Muhammad's morality. Malcolm X took the view that the Honorable Elijah Muhammad was immoral, while I and other Ministers of the Nation of Islam took the position that He was and is a moral man. This heated controversy created an atmosphere out of which Malcolm was assassinated. In that sense, this that I said is nothing new. What is new, is that, I, sitting in the seat of the Honorable Elijah Muhammad, as the Head of a new Nation of Islam, asked for Mercy and Forgiveness from Allah (God) and from any aggrieved persons for any acts committed by the members of the Nation of Islam in the past or in the present that were injurious to others.
Even as the Pope, though not guilty of what has happened under former administrations, felt the need to ask forgiveness for the church; I, also am in a similar position today.
In 1995, I, along with members of the Black Clergy from denominations or sects of Christianity, Judaism, and Islam, met in Rankin Chapel at Howard University in Washington, D.C. to declare a Day of Atonement, Reconciliation and Responsibility. This was not to be a 24 hour period, but, a season where wounds that have been inflicted either willfully or in ignorance by us and others might lead to a healing in the process of atonement for us and also between us and our open enemies.
I would hope that the mischief of the media as seen in headlines throughout the Nation, "Farrakhan admits complicity in the murder of Malcolm X," would not turn the people against the Nation of Islam and Louis Farrakhan.
I would hope that after 47 years of my service to the Black community you would not allow the mischief of the media to turn you against a friend that has battled and continues to battle for the liberation of our people.
As a revolutionary, the life of Jesus, as recorded in the Gospels is a wonderful example to study. Every Black leader of consequence has been crucified and has knowingly or unknowingly followed in the footsteps of Jesus.
It is written in the scriptures, "They wanted to take Jesus, but, they feared the people."
On what Christians call Palm Sunday, He rode into Jerusalem to the joy and hosannas of the people who were casting palms at His feet. Many recognized Him as the expected Messiah. However, according to Christian Theology, five days later, the same people that claimed Him as the Messiah were now shouting, "Crucify Him."
What happened in those five days from Palm Sunday to what is called Good Friday? What has happened in these last five years since the Million Man March?
No Black man ever has been blessed by Allah (God) to call for a Million Black men to assemble on the Mall in Washington, D.C., the place where we once were sold as slaves. Nearly two million Black men heeded that call, not necessarily to petition government, but, to petition our Creator to ask forgiveness for our sins that we might forgive each other and become a united body of Black men going forward for our families and for the greater good of true liberation that we might be placed where Allah (God) intends for us to be.
On the Mall, on that day, October 16, 1995, a poll was taken by the Wellington Group, in conjunction with Howard University. The poll showed that eighty five percent of those who were present at the Million Man March were Christians. Twelve percent were Muslims, and three percent were other. Eighty five percent approved of the Leadership of Louis Farrakhan, while eighty six percent approved of the Nation of Islam. These statistics alarmed elements within the Christian and White communities, and, from that day to this, a concerted effort has been made and is being made to destroy the influence of Louis Farrakhan and the Nation of Islam among the Christians.
Cities into which I went in earlier times and was received by Pastors of the Christian faith allowing me into their churches, all of a sudden turned cold. In my 37 City Tour in 1997, I found the doors of most churches locked against me, however, in most of the major cities there would be one strong Pastor who would allow me into his or her church to speak to the people. In many cities, some Christian Pastors took to the airwaves referring to me as the anti-Christ.
On my World Tour of 1995 and 1996, in the spirit of Atonement, Reconciliation and Responsibility, I went to Iran and Iraq and pleaded with them to reconcile. I went into the Arab and Muslim World and pleaded with the Arabs, Christians, and Muslims to reconcile their differences.
I went into nations in Africa and Asia using the Message of Atonement to help settle conflicts between Muslims, Christians, and between different tribes.
Congressman Gus Savage, who was with me during the first part of this tour, took me into a room on our chartered plane and said to me, "I always believed that you could unite Black people in America. I did not know your power in Africa, and, if you have this same power in the Arab and Muslim world you are the most dangerous man on the planet to these forces that rule by divide and conquer. So, when you get back to the United States, they are going to jump on you with both feet."
He told the truth. For, when I returned, the media again attacked my trip with such viciousness that many friends that we had gained from the Million Man March either were neutralized or were so upset that I, in their eyes, squandered an opportunity for general acceptance by visiting these so called "rogue nations."
We must remember that no Black man who has become international in terms of unifying the Black struggle in America with the struggle of Blacks throughout the world has ever been loved by the Government of the United States. Every Black leader who had that kind of international respect was attacked viciously by the media, turning many of our people against these leaders. Paul Robeson, W.E.B. Dubois, Marcus Garvey, Adam Clayton Powell, Malcolm X, Martin Luther King, the Honorable Elijah Muhammad all had global respect and ties, and, each one during his life time was turned on by his own people by the mischief of the media and did not live to see the acclaim that would ultimately come to them. When it appeared that these leaders were no longer a threat to the aims or objectives of the United States Government, the purposeful revision of the goals and objectives of these great men, thus, destroying their ideas among the people is what allowed the enemies to sanitize them, exalt their names and their faces because the public would no longer be familiar with the ideas of these men that made them a target of the American establishment.
I have learned that the National Security Agency of the United States Government started recruiting young Black college students sending them into our mosques to create havoc and cut down the progress of the Nation of Islam internally and externally.
The ADL and other Jewish groups in collaboration with other Whites worked to undermine any government contracts that came to Muslim owned security companies.
The Nation of Islam was actually being "SANCTIONED." Internally, the agent's job was to try to get into positions of authority and from these positions kill the spirit of the believing men and women who are the workers and supporters of the Nation of Islam, and, some from these positions stole monies of the Nation of Islam. Their job was to take advantage of any division within the Mosque and foster those divisions, so that internally, progress would be brought to a halt on the spiritual and economic levels.
Quietly, various Christian and Jewish leaders met concerning the "Farrakhan Factor," and, their aim was and is to destroy any attraction that Black people might have to Louis Farrakhan and the Nation of Islam.
These clandestine meetings culminated in a series of lectures by noted Christian Pastors and Evangelists who took time out from preaching the Gospel, particularly Reverend Fred Price, who spent nearly six months attacking Islam, Prophet Muhammad (Peace Be Unto Him), The Honorable Elijah Muhammad, and myself. Many pamphlets were published by Muslims, Christians, and Jews attacking Louis Farrakhan, the Nation of Islam, our Founders, Master Fard Muhammad, and the Honorable Elijah Muhammad. This is being done so that never again would a Muslim be able to make a call and Christians answer that call.
Several years ago, I stated that I have worked hard to bring about unity between Black Christians and Muslims that we might work together for the spiritual, moral, political, and economic upliftment of our people. I harbor no ill will toward our Christian family, nor do I harbor ill will toward believing and practicing Jews and Muslims. I am only citing things that I know have been going on in the last five years since the Million Man March and its great success.
I began an effort to reconcile with Imam Warith Deen Mohammed several years ago. When I returned from my Third World Friendship Tour, in February 1998, I stated before our convention that it was highly improper for me to seek reconciliation and unity with Christians, Jews and others, and, not seek reconciliation and unity among Muslims.
I praise Allah (God) that a dialogue and a good spirit prevails among the followers
of Imam Warith Deen Mohammed and members of the Nation of Islam as we move step by step toward reconciliation.
What I have noticed is that the media wants to make the world believe that I have thrown away or trashed the Message of the Honorable Elijah Muhammad; a Message that gave me life and allowed me to give life to hundreds of thousands and millions of our people.
What I have done is grown into a deeper understanding of the universal application of what the Honorable Elijah Muhammad taught. There is a saying that before you can assassinate an individual of importance you must first destroy his reputation. These headlines are designed to create an atmosphere of hostility toward the Minister and even possibly toward Ms. Shabazz that zealots on both sides who hate any attempt at reconciliation might in such an atmosphere do harm to her or myself.
The aim of this world has always been to kill the Honorable Elijah Muhammad. Not because of the way He looked, but, because of the ideas that are inherent in His Message. Ideas that are now carried by me, therefore, the same wickedness that came to him is now coming to me.
I will continue reconciliation with Ms. Shabazz and the Shabazz family; with the Nationalist community; with the brothers and sisters of Islam who love the Honorable Elijah Muhammad and Prophet Muhammad (Peace Be Upon Him), because, I believe that only through our unity will we be able to repel the forces of evil that are bent on the destruction of the rise of Black men and women, and, the destruction of the great future that Allah (God) and His Prophets have prophesied for us.