BY MOTHER TYNETTA MUHAMMAD | LAST UPDATED: DEC 11, 2013 – 5:22:58 PM
—The Path To Self-Healing And Regeneration—A Nation Being Reborn

"And whoever of you is obedient to Allah and His Messenger and does good, We shall give her a double reward, and We have prepared for her an honourable sustenance.  O wives of the Prophet, you are not like any other women.  If you would keep your duty, be not soft in speech, lest he in whose heart is a disease yearn; and speak a word of goodness." –Holy Qur'an, Surah 33, verses 31-32
Reading through the seven manzils or portions of the Holy Qur'an is like reading through a picture book of reflective memories of one's entire life integrated with the all Powerful Embracing Presence of Almighty God, Allah.  Allah shows us the way to Eternal life with every word, letter, number and punctuation mark with sound and color, leaving an indelible mark on our ever evolving DNA.  We do not have to limit our lives by submitting to the present world order of violence and death that has dominated our existence.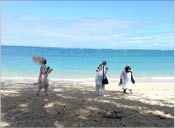 Photo showing a section of the beach in Maui where the memorial service was held in honor of Mother Tynnetta's sister, Karlotta, who took Hawaii as her second home. Memorial service was directed by Dr. Ayin Adams, publisher, lecturer and famous metaphysician. She is accompanied by Dr. Darnita Muhammad and Sister Callie Muhammad. The island of Oahu, her Circle of Friends, also sent honorary words and mantras in memory of Karlotta, their spiritual sister.
I have embarked on a grand turning point journey in my life to foster self-healing and regeneration of the vital life force within where Allah is the pure Fire and the Light of his own Divine Resonance Field of communicating with nature, restoring our balance of mind, spirit and soul which brings us in perfect alignment with our body-temple exhuming peace and harmony with God and God alone.
Years ago, I dreamed about the Great Mahdi, Master Fard Muhammad, accompanied by the Most Honorable Elijah Muhammad, who were taking me to a location, along with my youngest son, Ahmad, following their telepathic instructions to travel by car to a quiet retreat where they could speak to us.  They were driving in an old fashioned Oldsmobile or Ford of the '50s or '60s, and my son and I were driving in front of them in our own vehicle viewing them from our rear view mirror.  Telepathically, they guided us to go around a curved section of the road until we reached ground mixed with gravel, interspersed with green grass, to a location where giant boulders blocked the road and we could drive no further.
I could no longer see them from our rear and I thought, for an instant, that we had lost contact.  We got out of our car and my son, Ahmad, was no longer with me; and I was left seemingly alone.  Suddenly, the Most Honorable Elijah Muhammad appeared, standing in front of me while I was in a crouched position.  He began telling me that he wanted me to get more acquainted with the Saviour.  Once he said those words, he disappeared and the Saviour appeared in a similar crouched position, on one side of me exposing His side profile showing his head and face.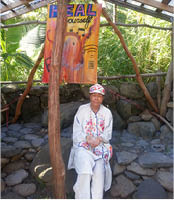 On the road to Hana, a small wooden enclosure, in the rainforest sights on one of the themes of our majestic journey to the Hawaiian Island of Maui to Heal Thyself, words on the colorful poster inside the bamboo enclosure where Mother Tynnetta is seated on a bed of volcanic rock, the banner reads, Heal Yourself.
He was looking straight ahead peering over a canyon where a family appeared to be climbing up the side of the canyon path.  A dog appeared in front of the Saviour at perfect attention, when there suddenly appeared a beautiful hawk or eagle perched on a branch growing out of the protruding rock, landing as if on his shoulders.  He then said the following words:  "I love to commune with nature." His gaze was focused straight ahead.  There were many more details to this dream that time will not allow me to share.  In the following scenes, I was guided to a cottage-like cabin in the wilderness where I was introduced to several male members of a family with whom the Saviour was well acquainted.
A dialogue ensued and I awakened with wonderment searching for the meaning of this extraordinary dream or vision.  Now, it has come to me in this sequel of my extended journey to the Hawaiian Island of Maui that this kind of environment radiates peace and self-healing frequencies which help us to maintain good health and the regeneration and strengthening of mind, spirit, and body that is reflective of the Saviour's message and that of the Most Honorable Elijah Muhammad as to the importance of environment and atmosphere to achieve optimum health.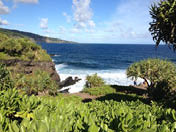 Traveling on the road to Hana, we arrived to the Aleakala National Park site of the seven Sacred Pools (known as Oheo Guleh by the native Hawaiians) which also embraces several majestic waterfalls, the highest reaching 2,000 feet cascading to the ocean below.
So it is that the Most Honorable Elijah Muhammad is preparing us stage by stage to embrace the Fountain of Youth in the life of the Hereafter.  Our natural eco-system, untampered with, is part of our journey to self-healing and restoration.  Our Nation is going through a period of rebirth, and our many family members around the globe are prepared, like the Good Samaritan to help us in our journey of resuscitation on our way back home.
The Most Honorable Elijah Muhammad spoke to several of his followers concerning the future healing process to the restorative balance within ourselves by mentioning privately and in some of his lectures that the islands of the Pacific would be used as healing centers in this process.  We have become accustomed to living in the savage environment of America's which have contaminated our thoughts and our actions.   We are trying to live and adopt the White man's way of life to the degree that we cannot imagine what it would be like to be taken from this environment and brought back to our own people.   We would rather go down in the throes of death rather than be separated from our former slave masters' reign of terror to enter a better world on the other side.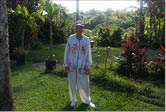 The botanical garden scene located in the high mountains on the road to Hana and the seven Sacred Pools.
As we traveled on the road to Hana, weaving through awesome rainforests and climbing high mountain cliffs on narrow roads, we were overlooking majestic wind and sun-swept beaches below, mixed with volcanic rock, black sand and coral reefs.  We came to the seven Sacred Pools on this winding, narrow road called in the native language, Oheo Guleh riveted with beautiful waterfalls cascading from heights of 200 feet to 2,000 feet above sea level, plummeting into the earth and ocean below.  
A few of us, including my traveling companions, Dr. Darnita Muhammad and Sister Callie Muhammad, witnessed all of this extraordinary beauty as we prayed in conjunction with others from the island of Maui and Oahu, over the cremated remains of my sister, Karlotta, in this sacred place that became a second home to her.  These prayers and sacred ceremony was conducted by Dr. Ayin Adams with the ancient spirit of the Kahuna, who are the spiritual advisors of the Hawaiian people. 
Special mantras (Divine Words) were recorded and sent from our indigenous family on the island of Oahu, praying with their ancestors that the soul and spirit of Karlotta, whom they loved dearly, would manifest itself again in higher frequencies of existence.  Blessed be the Name of Allah forever.  Praise His Holy Name as we go forward in Allah's Presence in perfect peace into the New Life of the Hereafter.
"And stay in your houses and display not your beauty like the displaying of the ignorance of yore; and keep up prayer, and pay the poor-rate, and obey Allah and His messenger.  Allah only desires to take away uncleanness from you, O people of the household, and to purify you a (thorough) purifying.  And remember that which is recited in your houses of the messages of Allah and the Wisdom. Surely Allah is ever Knower of subtilities, Aware." –Holy Qur'an, Surah 33, verses 33-34
To be continued.