BY MOTHER TYNNETTA MUHAMMAD | LAST UPDATED: AUG 19, 2010 – 3:16:37 PM
   The Cultural Revolution Begins | In Search of the Messiah  

"Those who believe not in Allah's messages, Allah guides them not, and for them is a painful chastisement. Only they forge lies who believe not in Allah's messages, and they are the liars." —Holy Qur'an, Surah 16, verses 104-105
On the eve of Ramadan on August 10th and the 11th, a few sisters headed out from Ft. Lauderdale, Florida, on a spectacular journey to the Clear Water Scientology Center. Within three hours of our arrival and settling into our comfortable accommodations, arranged for us at the Fort Harrison Hotel, we began our initial tour of the hotel facility. Our two primary hosts, public relations director, Pat Harney, and coordinator, Fu Mei, who were prepared several days in advance to receive us greeted us with great warmth and gentle kindness as their guests for dinner at one of the hotel's fine dining restaurants.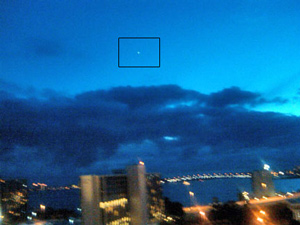 Following dinner, we were taken on a brief tour of the two hotel's ballrooms, one of which was host to the Ebony Awakening Awards Program held on June 19th, where my son, Rasul Muhammad, was invited to perform. From there, we ascended the elevator to the 10th floor to view the Crystal ballroom; and from there we were escorted to the balcony where a grand adventure was in store for us. As we were approaching the hour of complete sunset, we were captivated by the spacious, open roof surroundings titillating with a mild breeze and a much lower temperature of the day. The view was engaging, which gave us an outlook over some of the city buildings, which included a park and the Clear Water bay.
As we looked up to the sky, there was a soft gathering of grayish black clouds. Sister Callie Muhammad noticed a small light coming from behind one of the faint cloud formations. From that moment on, the drama of the sighting began. All five of our sisters in attendance, including the public relations director and later joined by Fu Mei, were all drawn to this spectacular light that increased in size in the dark background of the night sky. A variety of color hues began to appear around the object, which were clearly visible to all of us. The shape of a dome emerged on the top with an angular slant on both sides. At a certain point, we recognized a rotating center ring or hub of bright oscillating lights. The color sequencing that we observed went from amber to reddish tints, to soft greens and blues.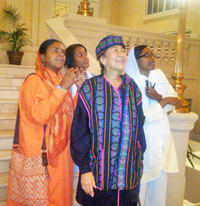 When Fu Mei entered and noticed the large object, she recalled receiving a text message on her phone several weeks earlier from Reverend Al Freddie when he was in Atlanta and was describing to her a similar type object that he observed there glowing in the night sky. Our public relations host said that she had heard about these kinds of sightings, generally referred to as UFOs, but had not actually witnessed one before until then. It was hard for us to keep from observing with excitement this spectacular sight. After approximately 20 or so minutes, our host suggested that we go downstairs to the first level of the hotel to the outdoor pool area and terrace. She soon departed company with us for the night, and there we remained in that spot continuing to observe this rare sighting up to approximately 20 or 25 more minutes.
By this time, one of the staff employees at the hotel began peering through the veranda windows opening from the inside of the hotel to the terrace and soon joined us and stated that it certainly wasn't Mars which would have reflected a reddish tint; and he continued, it didn't fit the description of a star. Literally, there were no other star candidates in our night sky view. Sister Charlene Muhammad, the wife of my son, Rasul Muhammad, had accompanied our small group which also included Sister Sabrena Muhammad, Dr. Darnita Muhammad from Ft. Lauderdale, and Sister Callie Muhammad from Columbus, Ohio. She took her small telephone camera and began filming the object which appeared in her camera lens to be bobbing and weaving and dancing in the sky.
As we were thanking Allah for this special blessing and pondering over its meaning relative to the eve or start of Ramadan, within these few short hours of our arrival in Clear Water, another staff member approached us who had prepared for us to have the experience of the Nerve Assist Treatment before retiring, found herself also caught up with our experience and was amazed to see the live footage and recording of the object captured by Sister Charlene's telephone camera.
We finally returned to our rooms highly electrified by this experience that was witnessed by so many participants there at the Fort Harrison Hotel. After we each received the technique of Nerve Assist developed by L. Ron Hubbard, we returned to the Book of our early evening studies on how UFOs communicate with us: It Is Information About How The Connections By UFOs Are Made.
"Whoso disbelieves in Allah after his belief—not he who is compelled while his heart is content with faith, but he who opens (his) breast for disbelief—on them is the wrath of Allah, and for them is a grievous chastisement. That is because they love this world's life more than the Hereafter, and because Allah guides not the disbelieving people." —Holy Qur'an, Surah 16, verses 106-107
To be continued.