BY MOTHER TYNETTA MUHAMMAD | LAST UPDATED: MAR 18, 2008 – 11:51:00 AM
Almighty God Allah, the Greatest Designer and the Fashioner of the Universal Order of Things
"That abode of the Hereafter, We assign it to those who have no desire to exalt themselves in the earth nor to make mischief. And the good end is for those who keep their duty. Whoever brings good, he will have better than it; and whoever brings evil, those who do evil will be requited only for what they did." –Holy Qur'an, Surah 28, verses 83-84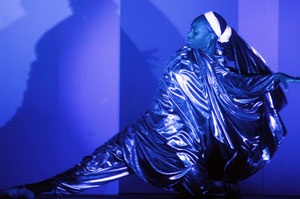 This is our dance performance by Haniyah Muhammad, wearing the Toga design by Mother Tynnetta Muhammad in the opening presentation of Mother Tynnetta�s section of New Designer� Collections Photo: Mikal Veale
As I made my way to the baggage claim area at the John Wayne Airport in Orange County, upon my return to California, from Seattle, Washington, several years ago, a woman who was on the same flight made her way over to me to compliment my wearing apparel, which is a part of my new Al-Tai Collection. So she was impressed that she insisted on giving me her P.O. Box Number and stated that I should be on the Oprah Winfrey Show displaying my unique wardrobe. She also stated that she would write to her herself making this request. This is one of many examples of compliments I have received from the public concerning my collections of apparel from Dress 19 to the Al-Tai Collection.
These comments vary from Blacks, to Whites, Asians and a full worldwide spectrum of religious and ethnic groups combined. While visiting Beijing, China, in 1995 as a participant in the Fourth World Conference for Women along with our delegation from the Nation of Islam, including Mother Khadijah Farrakhan, wife of the Honorable Minister Louis Farrakhan, Donna Farrakhan, daughter of the Honorable Minister Louis Farrakhan, Claudette Marie Muhammad, Karriema Muhammad, who were a part of Dr. Dorothy Height's full delegation, my garments were again a center of attraction. This occasion opened up my first meeting with Ms. Susan Taylor, former Editorial Director of Essence Magazine, who later featured some of my designs in the July of 1996 issue.
Upon another occasion, my Gold Foil Dress 19 formal wear was awarded the Best Dressed Prize in the Washington Dossier magazine several years ago. The Dress 19 Collection also was awarded first prize in Women's Events such as Miss Arizona several years ago. So I was very pleased that this year's fashion showcase event included my line and the history of manufacturing my designs in the city of Chicago. I was also pleased to be able to introduce New Designers' Collection under the name, "The Sewing Circle."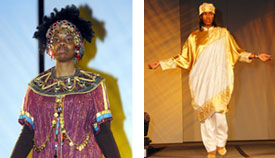 (L) Kaba Muhammad wears the Mother Africa costume created by designer Karlotta Muhammad from Los Angeles. (R) Tamecka 4X wears Toga design from the Dress 19 Collection.
In my last article, I referenced the beginning of fashion and design beginning with the Divine Creator, God Himself, as the inspiration and signature to represent the root of all of my designs. As I reflect on this theme, I wondered could this, in essence, be what comprises its worldwide appeal. My most recent Designers' Collections called Al-Tai is inspired from my travels throughout Central Asia, which also represents a geographical and historical timeline representing diverse cultures from around the world. From these journeys, friendships have developed on a diplomatic level joining our nation with other Aboriginal populations around the globe.
The Dress 19 Collection, for example, introduces us to the travels on the Silk Road, which includes countries from Turkey to Turkistan, from Samarkan, Bokhara and other countries along the Old Silk Road trading routes that ended upon in the Xian Province in China. Within the Collection, new designs were introduced from our staff at Fashahn which reflected countries in Central America, such as, Xochitl (Maiden), Guatemala, Renaissance, along with the Three-Pleat Official Uniform and bridal wear. The newest collection entitled or called Al-Tai reflects my further journeys into Siberia and Mongolia reflecting patterns and fabrics using ancient and universal symbols representing cultures from around the world. And congratulations to Carmen Muhammad, her daughter, Kabasa Muhammad, and her staff for organizing and presenting an extraordinary display of new designers inspired from the Teachings of the Honorable Elijah Muhammad reflecting one of our units of the M.G.T.&G.C.C., which is sewing and design.
There is a written paragraph in our early instructions to the Laborers, recorded in the city of Detroit, Michigan, which states, "The M.G.T.&G.C.C.: I can sit on top the world and tell everyone that the most beautiful Nation is in the wilderness of North America, but do not let me catch any sister other than herself in regards to living the life and weighing properly."
"And let them not turn thee aside from the messages of Allah after they have been revealed to thee, and call (men) to thy Lord and be not of the polytheists. And call not with Allah any other god. There is no God but He. Everything will perish but He. His is the judgment, and to Him you will be brought back." –Holy Qur'an, Surah 28, verses 87-88
To be continued.