BY THE HONORABLE MINISTER LOUIS FARRAKHAN | LAST UPDATED: JUL 14, 2015 – 12:47:22 PM

[Editor's note: The following was released by the Honorable Minister Louis Farrakhan via social media on Wednesday, July 8, 2015.]
In The Name of Allah, The Beneficent, The Merciful. 
Greetings to you. I am Minister Louis Farrakhan.  This is a special message to all of my friends in the rap community.
My enemies have been stalking me and my work in the various cities that I have spoken in to advise us about the 20th Anniversary of The Million Man March titled "Justice…Or Else!"  And in many of my lectures, as I meet with the rappers, the pastors, the activists, the organizational leaders and the common people, I have been watched by members of the Anti-Defamation League of B'nai B'rith ("ADL"); and in their stalking of me, and watching those who embrace me,* I've noticed that if you come and sit with me, and I give you good counsel, good advice, the next thing I know my brother rapper has been arrested.  Such was the case of Young Jeezy after he visited with me, after Sean "Puffy" Combs visited with me, after Rick Ross visited with me, and we embraced each other; and 2 Chainz, and Young Thug: All of a sudden, they've done something wrong with the law.
[*Ref. Read The NOI Research Group's article published July 6, 2015 titled "Hip Hop Artists Break ADL Stranglehold: Embrace Farrakhan's Call For #Justice, Or Else" in response to the ADL's attack on Black youth and Hip Hop culture in their June 30, 2015 blog titled "Farrakhan Receives Support From Rappers On Social Media" – http://noirg.org/articles/hip-hop-artists-break-adl-stranglehold-embrace-farrakhans-call-for-justice-or-else/]
I say to my brothers and sisters in the rap community:  This demonstrates to me the fear of the enemy who has "covered me up" for 20 years, not allowing me on their major televisions, not allowing me to be interviewed, and stopping me from talking in the various colleges and universities, never wanting me to speak to our young people.  But after 20 years, I have been speaking now in colleges and universities—and they listen very carefully to every word that I say.  And recently on Facebook and Instagram and Twitter, when they see my brothers and sisters embracing me, they shudder with fear that The Voice of The Minister is now reaching the young people. 
The Breakfast Club interview opened a big door; then the Sway in The Morning interview (both recorded June 4, 2015), now Big Boy (recorded June 17, 2015).  Now others want to speak with The Minister, and I certainly want to speak with them.
What have I said that has you so upset?  I'm speaking, now, to my enemies.  Some have even written to me in text messages, saying: "Look at Farrakhan: He's with these thugs, these immoral, these vile-speaking rappers."  You should be ashamed of yourself!  My mission is the transformation of human life, particularly Black, Brown and Red life; so when you see me sitting with those who may have broken the law, or have been vile in their speech and degrading women in their talks, and promoting thug life, don't be upset, because it's written in the scriptures that Jesus sat with the publicans and the sinners.  And when his critics said, "Why are you sitting with them?" Jesus said:  "Is it not the sick that need a doctor?" (Mark 2:13-17)  My people have been made sick in their journey in America under the sickest human being of all!  The Raper, The Robber, The Murderer, The Kidnapper:  This is who my people have been raised by, reared by.  So when you see me sitting with my people, mind your business!  I speak to them as their brother and as their spiritual father.  So I want to say to my great rapper community:  Know that when you visit with me, or take a picture with me, it upsets them!  I know that they are trying to put fear into you…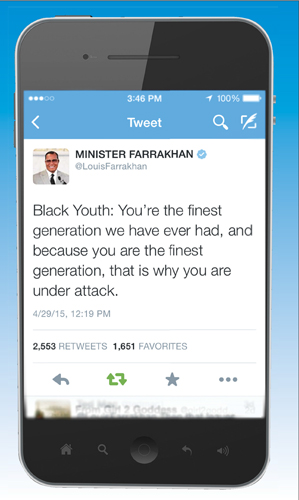 "Don't associate with Farrakhan.  Don't give him the value of your image, and the millions of followers that you have."  Why not?  Why shouldn't they hug their brother, listen to their brother, admire their brother for standing up for them?  You certainly don't stand up for them!  They are not your business.  They are mine.  So leave them alone!  Your day is fast approaching when the evil that you have poured on my poor and suffering people will be poured double, triple, quadruple on your own heads!  So be careful how you treat me; and be careful how you treat those who want to come to me that I may relieve them of the mental burden of your wickedness that you have imposed on us.
And so my brothers and my sisters, this is a sign to you:  We've got to clean up our act.  Be careful, because the enemy is setting traps for you doing things that will anger you, doing things that will upset you so that if you react in a natural way—to fight with those who fight with you, or to stand up against those who are doing evil to you—then this is a way, now, to arrest you; to charge you with some wicked crime to put you into prison.  (Well, soon they will be in a condition where none will be able to get them out of the chastisement of our God Who is present.)  So when you come to me, know that I love you, and know that I want to see you and your life transformed.  When you leave me, know that they are trying to find a way to hurt or to harm you.  So "go and wash," as Jesus said, "and be clean." (Ref. NLT John 13:1-17 & Isaiah 1:16-20)  Clean up your life!  Clean up your act!  And let us come together as never before, and let the enemy see that we are united for "10.10.15," the 20th Anniversary of The Million Man March where the theme is "Justice…Or Else!" 
To all my family of rappers and artists and musicians, and sports figures:  Join me in Washington.  I need your help.  Ask those millions that follow you on Twitter and Facebook and Instagram, ask those who look to you; tell them:  "I am going to be with Farrakhan on 10.10.15, and I want all my followers to do the same."  Let us move on to Washington, and demand the justice that we rightfully deserve from those who have the power to give it, or grant it! 
But I must say, we are not coming depending on you [U.S. government].  Because if you don't give us what we deserve, which is justice and equity, then The Lord of creation says in the Bible "The battle is not yours," He is talking to you and me, "the battle is Mine" (II Chron. 20:15); "Vengeance is Mine…saith The Lord" (Romans 12:19).  So when I say "Justice," I want to tell you what justice is.  And when I say "Or Else!" we will tell you all about that—and introduce you to The God of Justice Who will demand of you and force you to give us what we demand, or take it all from you.
***
Thank you for reading these words, and may Allah bless you and grant you all His peace.  I hope to see you all again, and I hope to see you in Washington, D.C. "10.10.15":  The Cry is "Justice …Or Else!"